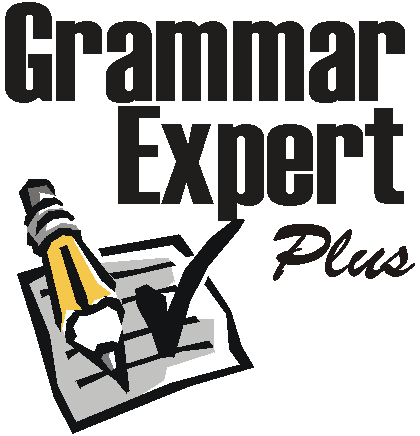 Grammar Expert Plus
If you write, you need Grammar Expert Plus

Grammar Expert Plus provides in one package four powerful, state-of-the-art tools to help improve your writing:
The English language is a mass of complex and confusing rules and words that look and sound similar but have different meanings. Even professional writers and English teachers have trouble keeping the rules straight. Grammar Expert Plus helps sort out this mess by checking your writing for thousands of common grammatical errors:
Grammar Expert Plus is ideal for anyone who writes: students, business people, and professional and casual writers. Grammar Expert Plus helps improve the quality of your writing: business and school reports, resumes, articles, stories, manuals, e-mail, newsgroup postings, blogs, business correspondence and personal letters. Grammar Expert Plus looks for grammatical problems, describes the problem for you in easy-to-understand terms, and offers suggestions for improvement.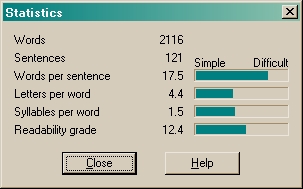 Grammar Expert Plus displays several useful statistics to help you tune your writing for a particular set of readers:
Word and sentence counts


Average word and sentence length

Readability grade
Grammar Expert Plus's built-in book-length grammar reference contains hundreds of examples showing the correct way to write, plus pitfalls to avoid. It includes chapters on sentence structure, parts of speech, mechanics of writing, punctuation, effective writing, plus a guide to frequently confused words explaining the meanings of over 160 words even professional writers have trouble keeping straight.
Grammar Expert Plus comes with a spelling checker including a 100,000-word American English dictionary. You can add words to personal user dictionaries, and Grammar Expert Plus can read and update user dictionaries created by other applications such as Microsoft Word. The spelling checker can also auto-correct common misspellings -- for example, it can replace recieve with receive.
Grammar Expert Plus's thesaurus contains over 36,000 unique key words in 5900 categories. Word categories are divided into parts of speech (adjectives, adverbs, singular nouns, plural nouns, and verbs in first-person singular, third-person singular, past tense, and present-participle forms).
Grammar Expert Plus can check text you have typed, text and rich-text documents, and the Windows clipboard. You can install Grammar Expert Plus as an icon in the system tray, next to the clock on the task bar, where it is always accessible. Grammar Expert Plus is ideal for checking text you enter in other applications that lack grammar and spelling checkers.