WSpell ActiveX Spelling Checker.
Add a spell checker to your Web and Visual Basic applications.
WSpell is an ActiveX control (OCX) software and Web developers can use to quickly and easily add a powerful, professional quality spellcheck capability to their Visual Basic applications and Web pages in minutes. It's ideal for spell checking text boxes on a form and text strings using either our built-in spell check dialog box or your own user interface.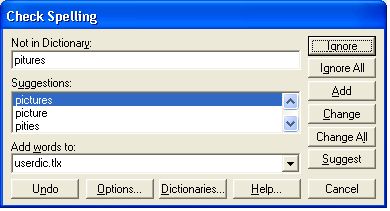 Interactive spell checking. WSpell can spell check the contents of text strings, standard text boxes, rich-text boxes, and TX Text Control. Misspelled words are highlighted in the text boxes as they're found, and replacements made by the user are updated instantly.
High quality dictionaries included. WSpell comes with professional-quality 100,000-word American, Canadian, and UK English dictionaries. It supports multiple user dictionaries and can use user dictionaries from other applications, including Word.
Friendly, royalty free licensing. You can distribute WSpell with your applications royalty free. Adding a spell checker to your applications has never been easier!
Add a spell checker to your app in minutes. We designed WSpell for ease of use: Just drop it on a form, set the Text property, and call the Start method — Voilà! You just added a complete, full-featured spellchecker to your application.
Free 30-day evaluation. Still not convinced? Download a free 30-day evaluation version of WSpell and see for yourself.
Background spell checking. To really impress your end-users, use WSpell's Background spellcheck feature to catch misspelled words as they're typed, similar to the feature found in Microsoft Office. You won't believe how easy it is!
Web spell checking. You can place WSpell on Web pages to check the spelling of text entered into forms with Internet Explorer. The WSpell control is digitally signed to ensure authenticity. See the frequently asked questions section for details on using WSpell in Web pages.
User dictionaries. Your users will appreciate the flexibility afforded by having several user dictionaries open at once, or opening sets of user dictionaries for different purposes.